COSO is a framework that organizations can use in their work with internal control and governance. But what is included in the COSO framework and how can you best benefit from it in your business?
What is included in the COSO framework?
COSO is an abbreviation of Committee of Sponsoring Organizations of the Treadway Commission. The COSO framework consists of five components and four target areas for the work with internal control.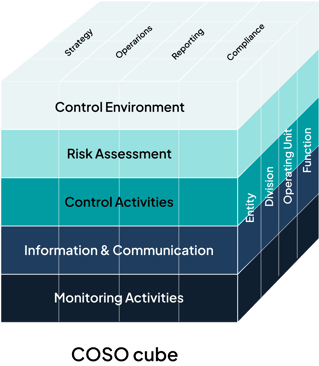 The five components in the COSO framework
Control environment
Control environment is about the environment that exists within the organization and includes areas such as values, structures, division of labor and retaining competent personnel.
Risk assessment
The risk assessment is about identifying and analyzing internal and external risks and how these should be prioritized.
Control activities
Once the risks have been identified and assessed, it is important to implement controls to prevent the risks from occurring.
Information and communication
In order to be able to control and manage risks, it is important that information and communication work in the organization. From employees to management and management to employees.
Monitoring and follow-up
It is important to evaluate and follow up all the different components according to the COSO framework to identify changes and possible gaps.
The four target areas in the COSO framework
Strategy
The reason why strategy is included as a target area is to highlight the importance of including the business strategy with the three other target areas, operational management, reporting and compliance.
Business management
Here you should be able to find all goals and management documents for the business.
Reporting
There must be documents that give a true picture of the business financial results.
Compliance
There must be clear information about regulations and laws that must be followed by the organization.
How can you benefit from the COSO framework?
Businesses can benefit from the COSO framework both from a business perspective and for the work with internal control. By using the COSO framework, you get an overall picture where goals for the business can go in line with internal control.
In order to work according to the COSO framework, some documentation and control is required, which can be difficult to manage without a digital tool. With a digital tool, it is possible to automate large parts of the documentation, which gives more time to bring the work to life.
Stratsys' tool for risk and control is developed with the COSO framework as well as the ISO 31000 framework as a starting point and provides organizations with effective support in risk work.
Do you want to know more about what a risk management system can do for your organization? Read more about Stratsys' tools for GRC management here.