In the Text node article, you can find a general description of how to add, edit, and remove nodes. In this article, you will find information specific to activity nodes.
In planning views, if you have the appropriate permissions, you can add activity nodes by:
Clicking on the "Add" button
Following the two-step guide which includes "Common" and "Departments" sections.
In the common section, you fill in the required information. The information that needs to be filled in depends on the settings for this specific activity column. The two fields that distinguish activity nodes from other nodes are Date and Status.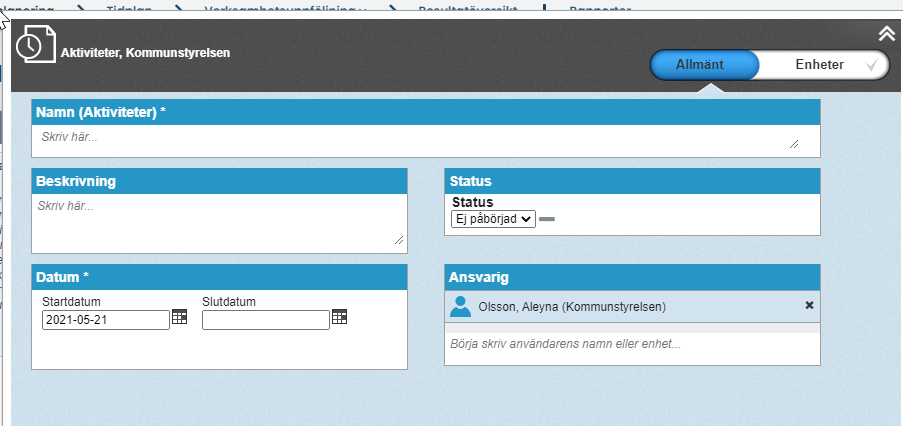 Date
Enter the start and end date for the activity, either by typing the date or by selecting a date using the calendar symbol. There is no limit to how far in the future you can set the date. Today's date becomes the default start date unless you are in the planning version, in which case January 1st of the planning year becomes the default.
Status
All activities have a status. The options available are set in activity settings, including the default. The status is often more relevant when the activity is to be followed up, but is also available in the edit window.
Departments
In the departments tab, you can choose whether the activity node should only exist on the department you are currently on or whether it should be copied to multiple departments.

Automatic copying
Means that if new units are added to the organizational structure under the unit you select, they will automatically be assigned the activity.
Consolidate status
If you want the status of the department where you create the activity to be a consolidation of what the underlying departments have set for status, select this. For example, if all underlying departments have set the status to "Completed," the status of the Municipal Executive Board will automatically become completed.
Remove a node
Click here to read how to delete a node