Report settings in the administration
Report Catagories
Just as binders usually have a register at the beginning for you to find what you're looking for more easily, we've chosen to use report categories to split the reports for you on the report page. If you drag the parable one step further, the report page is the book itself in which Reports Collected.
To get to report categories, click the three gears in the upper-right corner of the Stratsys to exit the administrator interface. Next, you'll find report categories under the reporting process section.
To add a new report categorie click the Name... and then give the report categories its new name. To confirm the extension click the Save button.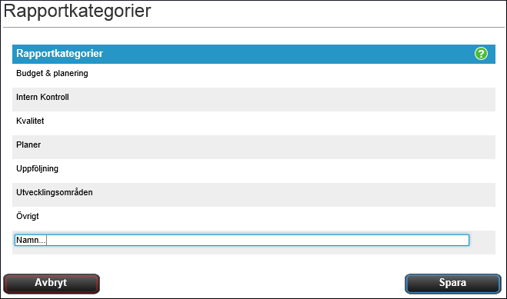 To remove a report categorie Click the Trash icon for the name of the report category and confirm the deletion by clicking Save.

Obs! You cannot delete a category If there is an existing report below it, this also applies To Archived reports.