Style template for tables, you use to make the tables in your system as uniform as possible and to customize their appearance to your graphic profile. Style templates controls the appearance of tables that are created as table or report part in templates, in Enhetsmallar, or by pasting from Excel. Users who have permission to make changes to the current report mode (template, Enhetsmall, or reporting) can also make their own additional formatting in the table.
You can create multiple table templates and, if there are multiple, the user can choose which template to use. Select the template you want to use as the default when a new table is created by clicking where the blue flag appears in the sample image below (to the right of the current template name).


Add New Style template
Start by typing the name of the new template in the bottom row of the template list. The description appears as a ToolTip when new tables are created and a table template is selected.


Then click Change Table Template To open the edit mode. You can choose to make edits that apply to the entire table, entire columns, entire rows, or individual cells. Select them in the top table and select the current formatting in the toolbar at the top.
Below the appearance template, you'll see a preview of how all the formatting you've made will look in newly created tables.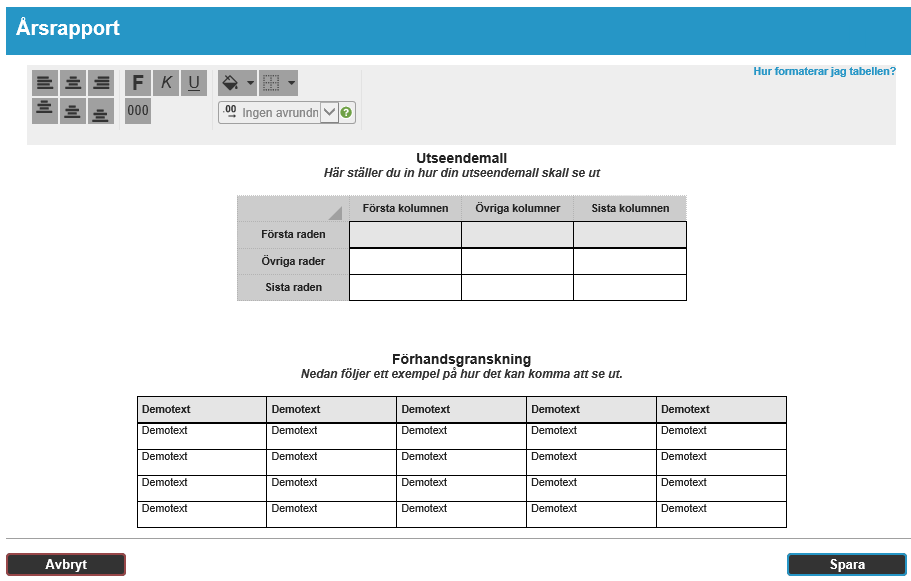 Change a Style template
Click the Change Table Template To the right of the current Style template to enter edit mode. Changes you make to a Style template that are already in use do not run through tables that already use the template. If you want to update already added tables, you can choose a different Style template for tables, and then switch back to it earlier for the changes to take over. See Add new Style template For additional information about how to format the template.
Obs! If you select a new table template in a table that also has manual formatting, the manual formatting will be overwritten.
To delete a Style template, click

Dust bin
To the right of the template. Deleting a Style template does not affect any of the tables that were based on the appearance template when it was created.