Visual Planning Version Indicator
Versions

Here you control which versions should be available in Stratsys. You can have a current version and a planning version.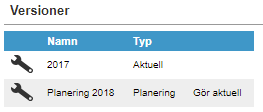 Using the wrench in front of the respective version, you can open the same to make changes in, for example, Name field. If you do not have a planning version, you can always ask your customer responsible consultant to add this to you or contact us at support.




Settings



All users should see the planning version
With this feature turned on, all users in the Stratsys can access the planning version. Such a need usually arises at the beginning of a year when all data from the previous year has not yet been reported, while most of the work is done in the planning version. If it is not turned on, only the users who are in a User groups that are allowed to do planning that can see the planning version.





Enable mode for reporting outcome values in the planning
Stratsys recommendation is to leave this special feature turned off as it will change the behavior of views and reports with the global reporting period so that the latest bleed values are displayed in the scheduling. This can be used for, for example, schools that may need to start reporting values in the planning before the planning is made up to date. Please contact your consultant before activating this option.

Separate the planning from the current version
With this feature turned on, added nodes in the current version are not automatically created in the planning version, which is otherwise the case.

View version picker at logon
If this selection is checked, the user will be greeted immediately after logging in by a choice for which version they want to go to.
TIPS!
If there is always a planning version enabled, you can allow the version selector at logon to be enabled at all times. If the option All users should see the planning version is not enabled, the version selector will only appear when users with normal planning permissions log on to the system.


Visual indicator for the planning version
If you choose to use the visual Indicator, the blue strip below in the image will appear along the left edge of the Stratsys when the user is in the planning version. You can choose to show/not display this as well as put text and color.