Alerts are designed to notify Users when critical changes occurs.
What types of Alerts are there?
Description
Stratsys Alerts is a special feature that is designed to inform Users about important and critical changes that occur within the Platform administration. These notifications differ from the regular notifications in Stratsys by focusing on changes that can have a major impact on Users and their work. Due to the higher priority these notifications have, they are handled differently than the standard notifications.

To ensure that Users notice these critical changes, Alerts are highlighted in a separate flow within the notification center. This means they are not mixed with other, less important notifications, making it easier for Users to quickly identify and act on them. In addition, these high-priority notifications are also sent via E-mail settings, to further emphasize their importance and reach Users who might not be logged into the Stratsys Platform administration at the time of the change.

By introducing Stratsys Alerts, Users can stay informed about important events and changes in real-time, enabling them to take swift actions and make well-informed decisions in their work with risk management and strategic Planning.
Prerequisites:
Users who have a product Licenses and who work with risks.
The KPIs that the risks are based on must be defined as a risk KPI.
Activate Alerts
The setting can be found via the notification center and a context menu for Alerts.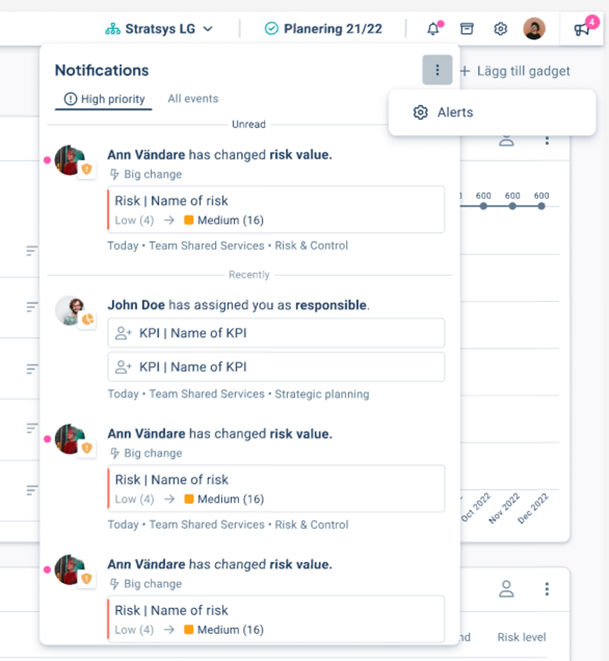 What types of Alerts are there?
The Alerts available depend on the configuration of your Applications on the Platform administration and how the Risk matrix is configured. What is Basic Settings can therefore vary between Applications and configurations.
Major Change: When an existing risk is re-evaluated and a major change occurs in the risk value.
Threshold Value: When a risk is created or re-evaluated and the risk value reaches a threshold value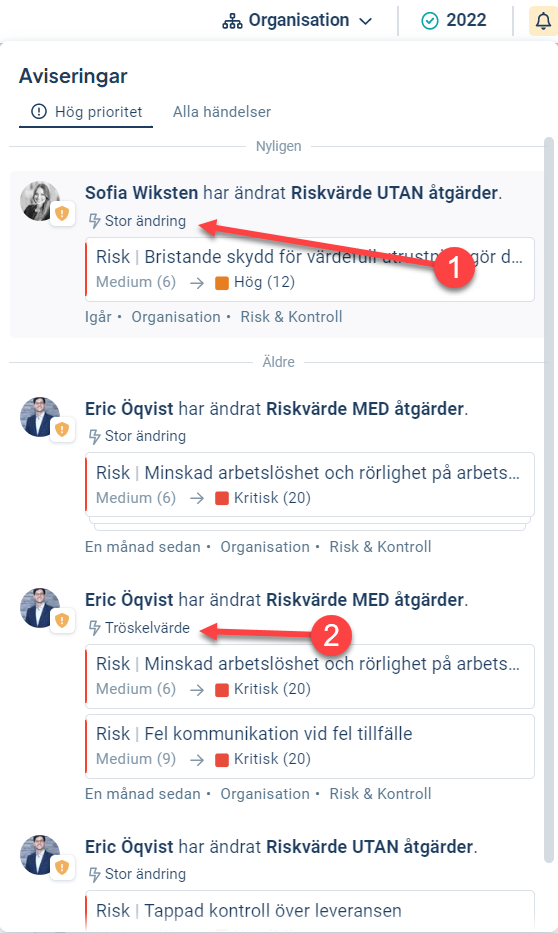 Who receives the notifications
All Users who are part of the Responsibility roles for the specific risk receive the notification. If a responsible User has made the change themselves, no notification is triggered.