In this chapter you will familiarize yourself with how you create new meetings or create upcoming meetings in a series. In addition you will be provided on how to edit meetings.
Create a new meeting (meeting-series)
Click on Create Meeting to create a new meeting.

A new window appears, where you (1) first set the meeting as a new meeting series and (2) then fill out the remaining information to the right. After creation you will be given a blank agenda where you can start to prepare before sending it to the participants of the meeting.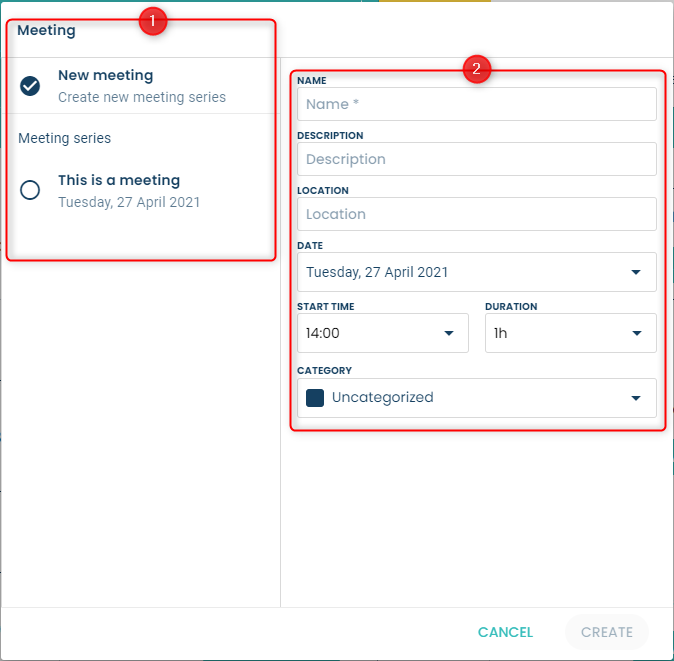 Remeber the "Details Menu"? This menu will come in handy now when you want to invite participants to the meeting. Open it up (as instructed here) and at the far bottom you are able to search and invite your colleagues. Enter the name of the colleage you want to invite, or invite a person by writing their e-mail.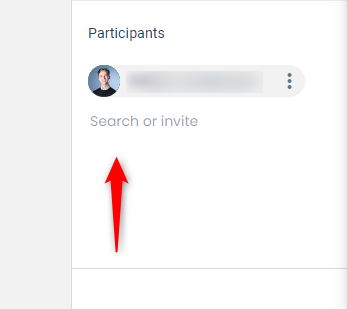 Create the next meeting in an existing meeting-series
This can be done in one of three ways:
1. In the meetings-tab
Once again, click on Create Meeting to create a new meeting.

This time, instead choose your series under Meeting Series. This makes it so that the current meeting you are creating will inherit properties from the previous including name, description, time and location. The date will be set a week after the last meeting, or set to todays date depending on when the last meeting occured. You are of course free to make any changes.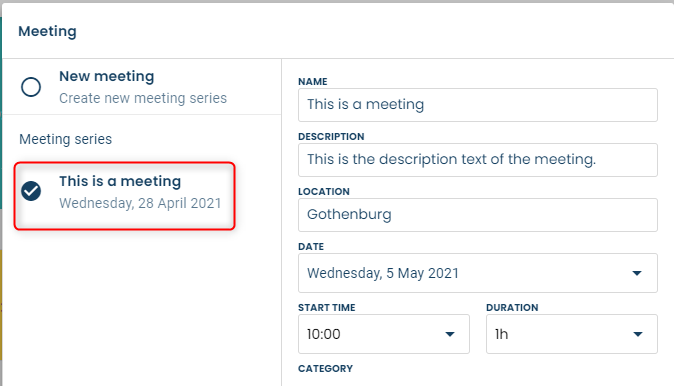 When created, the agenda of the previous one will also be set as default, but you can create a new agenda from templates that exists within your organization.
2. The meeting series in the meetings-tab
When in the meetings-tab, click the three-dotted menu on the meeting you want to continue with, this will open up the Overflow menu as showed down below. Click Create next meeting, a new meeting in this series will then be created.

Expanded when clicked: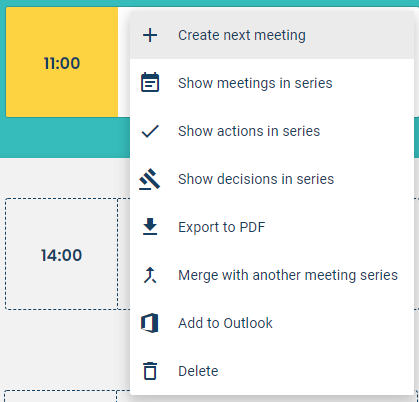 3. Create the next meeting from within a meeting
Inside a meeting, you can always create the next meeting in the series. Depeding on whether the meeting start time has passed or not, you can click Create next meeting directly by opening the Overflow Menu.
Edit meetings
If you want to change the meeting details for a meeting that you have already created, this is simply done by clicking into the meeting and click on what you want to change in the Details menu.
You can change the category, location, date and time. You can also add participants, delete them and mark participants as absent by clicking on them.