Functions Reset report helps restore headers that have been accidentally deleted in reports or restore deleted reports. The report recovery page consists of the restore title and restore common template tabs.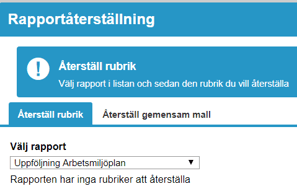 Tab: Reset header
Start by selecting the correct report from the list. If the report has any headings that were deleted, they appear in a title list along with the date and time they were deleted. There is no time limit on how long it is possible to recover a title from. Select the title you want to restore and click Reset header. The title is restored on all units where it was previously used.
Obs! Resetting a title that had an underlying report part also resets the report part. If you have removed the report part directly (without overlying header), there is unfortunately no way to restore it on its own. Please contact your consultant for any other questions. To see contacts, click the green question mark in the upper-right corner of the Stratsys.
Tab: Reset Common Template
You can search for a common template by specifying between which two dates the template was deleted. The dates are often needed to limit the number of hits. If you don't know when the common template was removed, you can use the To To list all templates that have been deleted.
Select the common template from the list to be restored and click Reset. Now the template will be back where it was before it was removed.