In Stratsys meetings, you can build an agenda and then send it to the meetings participants. Read more about it below!
Build agenda
If you have created a new meeting without basing the agenda on a template, you need to create a new agenda. You create a new agenda by clicking on New agenda items. You can crite a description and attach files to each agenda item.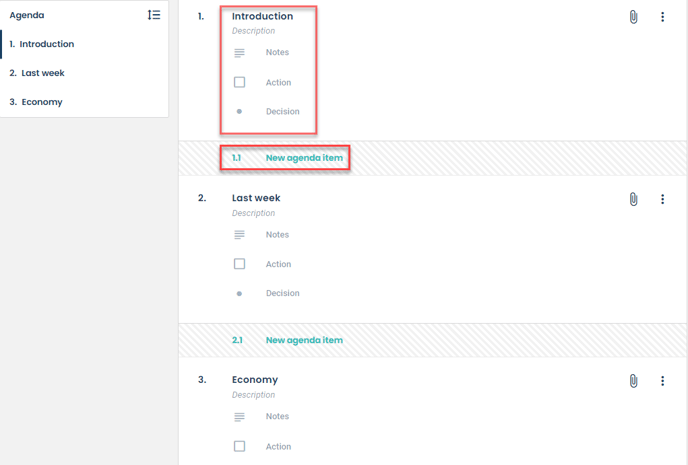 If you want to change the order of the agenda items, click on the left side of the agenda and then you can move the agenda items with "drag-and-drop".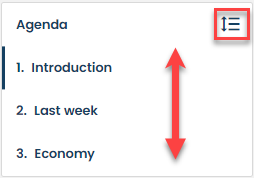 Send agenda
When you are done with your agenda, you can send it to all meetings participants by cklicking on Send agenda. Before sending the agenda, a dialog opens with a preview mode: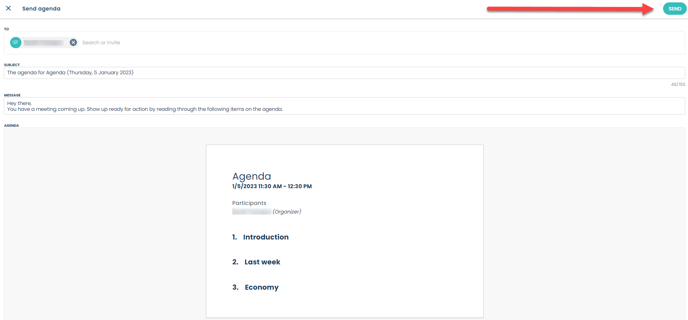 All meetings participants are preselected as recipients. Before sending the agenda, you can choose to remove and/or add recipents of the agenda email.

If you remove a participant from the recipient list, this person will not receive an agenda email, but the person is still a participant in the meeting. As a participant for a meeting, you can always log in to Meetings and read and edit the meeting agenda.
If you add recipients, they will have the agenda sent to their email, but since they are not participants in the meeting, they will not be able to open the meeting in Meetings. Participants, however, will be able to open the meeting in Meetings by clicking on the Open i browser button in the agenda email and make adjustments to the agenda, and also upload documents to it. So there is a difference between participants and recipients and in this step you are only dealing with recipients.
The agenda email receives a pre-filled subject line and a standard message. These text can be edited or deleted. When you are done with your changes, you clock Send to send the agenda email.
All recipients receive an email where the agenda is partly in the email itself but also as an attached PDF.
Add the meeting into your calender
In the agenda email there is also an ics-file attached. By clicking on the file, you can get a meeting booking into your calender. In the meeting booking, there is also a link to the meeting in Meetings that you can click on to enter the meeting and complete the agenda. The meeting booking is personal and does not synchronize with the meeting in Meetings. This means that if the meeting time is changed in Meetings, the time is not automatically changed in your calendar.
ATTENTION! If you are logged in with your Office 365 account, Meetings is connected to Outlook and you therefore have the option of exporting a meeting from Meetings to the calendar in Outlook. When you do that, a meeting invitation is sent out to all meeting participants that synchronize with the meeting in Meetings. This means that any changes to the meeting details (time, location, participants) that the meeting organizer makes in Outlook will be reflected in Stratsys Meetings

You can add the meeting to Outlook from the meeting overview or from within a meeting. In both cases, you will find the Add to Outlook option in the overflow menu: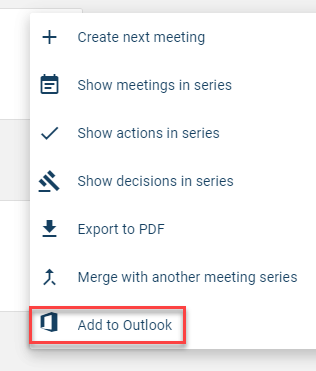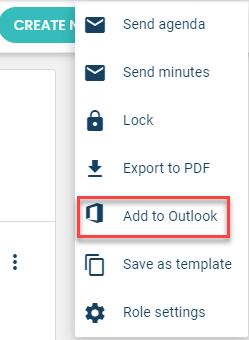 After clicking in Add to Outlook, a dialog will open informing about what will happen and giving an opportunity to write a message in the meeting invitation that is sent out: