If you want a view to publish to an external or internal home page, follow these steps:
Step 1
Go to Views of scorecards And see if the current view is already marked as a publiceringsvy with the icon

. If the icon does not appear, click Wrench

in front of the current view. Then click the button Change and Tick, under the Publish settings, For the current view to be a Publishview. Finish by saving your changes.
Obs! Only the following view types can appear as a Publishview:
Step 2
Go to Publishview i Administration. The view that was changed to be a Publishview now appears in the list.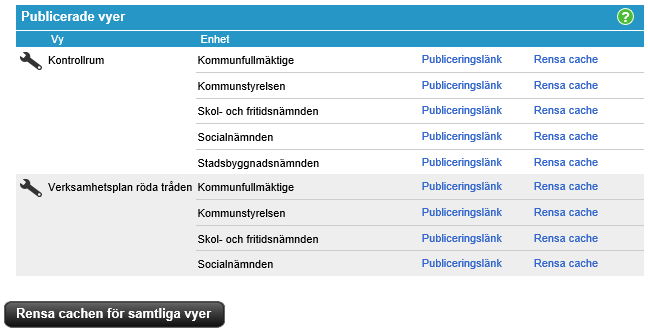 Unit
If you click

Wrench for a Publishview , the organization tree is displayed. Here you can check for all units that will be able to show their view on an external website. Exit by saving.
Publishing link (URL)
Click the Publishing link Opens a new browser tab with the external version of the view as it appears for the selected unit. The URL to this external page can then be embedded in any way on your intranet or on an external website.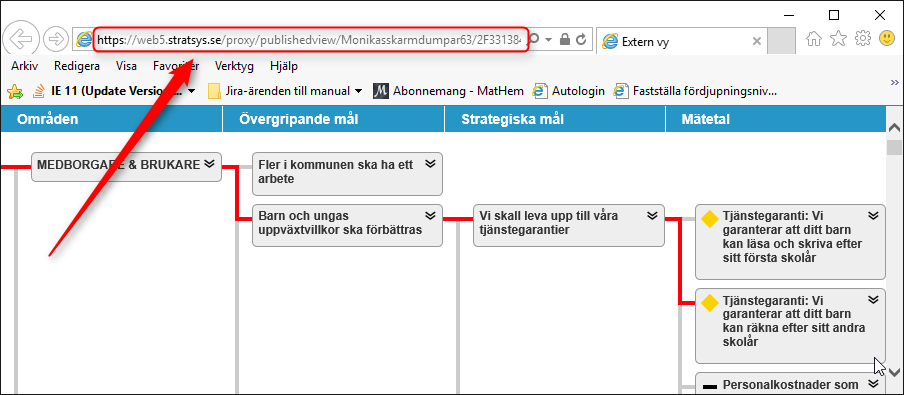 Clear Cache
Clear the Cache means that all information is re-loaded. For example, you can do this if you have made a change to the scorecard that you want to immediately appear on the external home page. If you do not clear the cash, the last change will not appear on the external page until the next day.
You also have the option to manually clear the cache for all views at once.