To do this, follow these steps
If there is no source system for importing KPI Data
You can use this import feature to manually import values exported to a. txt file from another system, such as. Excel.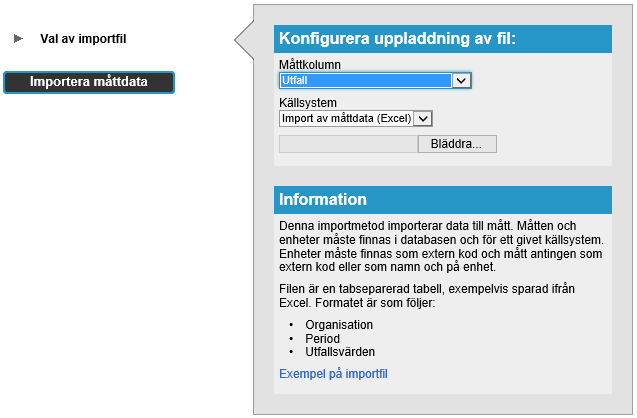 Here's how to do it:
Select the measure column to load the imported values into
Select the source system that allows file import of KPI data and activity costs (there is only one you can skip this step).
Use the scroll key to select the file containing the new data values. If you are unsure of the format of the file, you can export a sample file (click Example import file) and see what it should look like. It be in txt format, be tabseparerad and contain columns for organization, period, name of measure and data values.
Click the Import KPI Data.
If any of the measures have no connection in the system (e.g. do not have exactly the same name in the system as they have in the uploaded file), you can see what metrics it is about and have the opportunity to point to them and then search for the metric in the system as the measure in the TXT file should be linked to.


Missing connectors for units, you then have the option to also map them in a similar way.
Then click Continue And see that the import was successful.
If there is no source system for importing KPI data
In order for it to be possible to import KPI data manually via this functionality, there needs to be a source system prepared. If it is missing, click on the link in the image below (alt. Create it from the Administration/source system and external codes), the source system provides an appropriate name (e.g. "Import of Måttdata (Excel)") and click Save & Next. In the next step you add the integration File import KPI data and activity costs and click on save.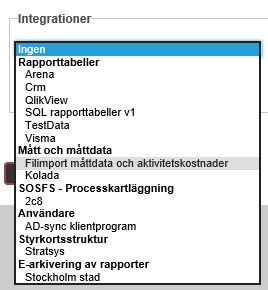 When this is done, return to Import KPI data and carry out the import itself.