All users have the option to make certain settings for their own account. They can change their contact information, change the language of system terms, change their password, and see what permissions they have in the system.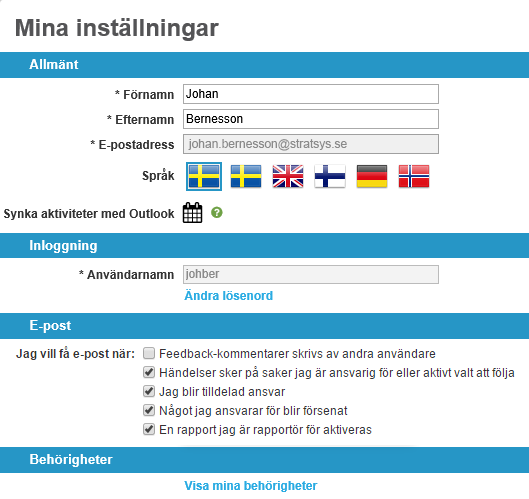 General
Here you can change the name or language. You can also set whether you want your activities to be synced to your Outlook or Google Calendar.
Login
If you want to change your password, you can fix it here.
E-Mail
You can also customize the type of e-mail reminders you want to receive from your system.

I am assigned responsibility
I'm added as a manager in a node (ex: Goal, measure, or activity).

Something I am responsible for will be delayed
A node (e.g. goal, measure, activity) passes its deadline (incl. offset). Reminder Mail listens to your specific settings for Reminders So mail can be sent before the actual delay occurs. See Also Periodicity and deadlines.
Obs! Not applicable for reports.

A report I am rapporteur for activated
The reminder is sent when the report is activated. See Standard contributors and standard entities And Create a new report.
Permissions
If you are unsure of the permissions you have in your system, click View my Permissions.
synchronising Tasks with Outlook