Under the settings for Look , you can customize the appearance of the tool so that the layout fits agree with your graphic profile. The page has two different tabs:
Upload logo image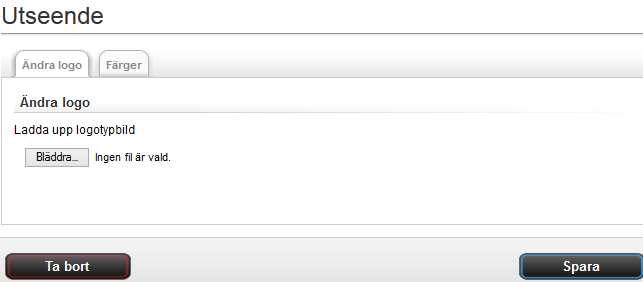 To set up a logo image, click on the button Browse. You then navigate in your own explorer where you can select an appropriate image. Once back in Stratsys, click the button save. Update your browser window to see the new logo.
Obs! Keep in mind that the image should be saved in JPEG, GIF, or PNG format in order to be uploaded and cannot be larger than the 10MB. For the image to look as good as possible, it needs to have a size that does not exceed 300 pixels in width and 32 pixels in height. If you upload a larger image, it will be scaled down.
Here you can see an example of where in the tool logo is placed.

Delete a logo image
To delete a logo image, click Remove Under the heading Upload logo image. To confirm the deletion, click OK In the box that opens.

TAB: Colors
Here you can change the colors used in tables, table templates, charts, and for Templats Throug. You can choose which colors are available in the color picker found in the tool. This makes it possible to better align Ex. reports and the appearance of the views to your organization's graphic profile.
All the colors available in your color picker in the tool are displayed in a list on this page.
Add a new color
Start by clicking Add New color. The colors have a mandatory Name (which appears as a ToolTip when users point to the color in a color picker) and a Färgkod. You can choose whether you want to enter an exact colour code or if you want to Fälja color in a color spectrum. If you select in the color spectrum, click the correct color and hue before you end OK.
Change the order of colors
Click the

Or

To change the order of a few colors. This affects how they are sorted in the color voters displayed in the tool.
Remove a color
Click the

Trash To the right of the current color.