Indicator groups are used when you want users to be able to choose from predefined options when they report in a table cell in a report. See the table formatting for setting the indicator group to be used in a table that is created in a report (not table in a report part).
The indicator group can contain text options or icons that you can upload yourself. The icons must be in GIF format and cannot be larger than 2 KB. Each group can have arbitrary number of icons.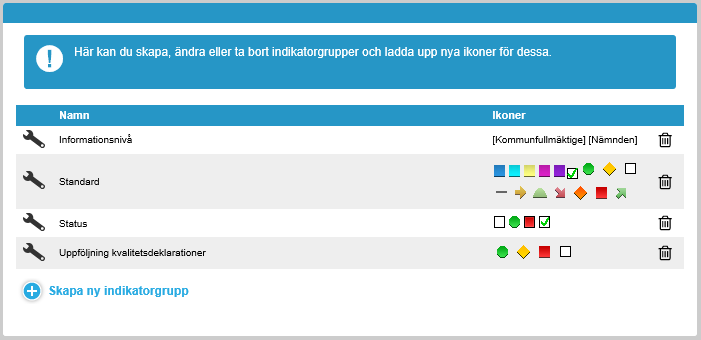 Create New indicator Group
Start by clicking


Give the indicator group a name and select whether to display a description to the uploaded icon when reporting and/or exporting.

Click the Save.
Change an indicator group
Click the Wrench

To the right of the name of the new indicator group and click new indicators.
Give the indicator a description (if you specified that descriptions should be used when reporting or exporting) and upload a GIF file that is Max 2kb large.
Click the Save.
Repeat the above until you have added all the indicators you want to use in this group.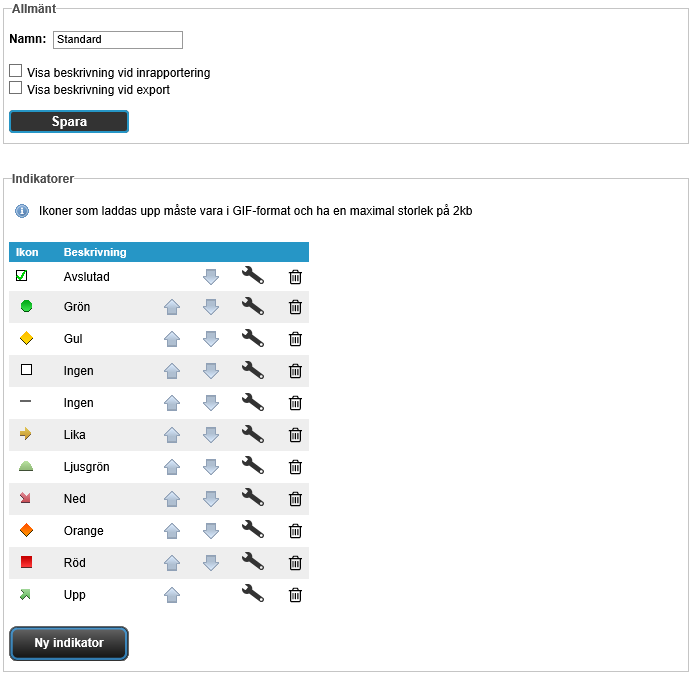 Then click Back.
Change the position of indicators in the list
ASe the arrows to move the icon up or down in the list.
Delete an indicator
Click the Dust bin

After each indicator.
Change an indicator
Click the wrench

For that indicator. Then you can, for example, enter a new description or delete or upload a new icon.

Delete an indicator group
You delete a Indikatorgrupp By clicking Dust bin

For the indicator group you want to delete.
Obs! If you delete an indicator group, values specified from that group will remain in all places where it is used in the Stratsys, but it will not be available for selection in new table cells.